Evans Jones completed the planning application for the new 900-place secondary school in Cheltenham, catering to students aged 11 to 16.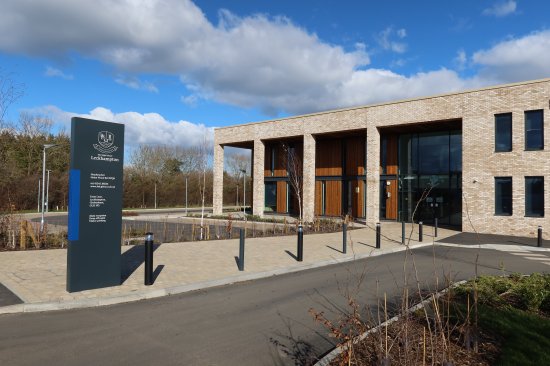 The High School Leckhampton aims to foster a supportive educational setting where students can explore their interests, ignite their passion for learning, and achieve their full potential.
Facilites
Covering a generous area of 7,900 square meters, the school boasts two wings of teaching facilities arranged around an inviting external courtyard. Its impressive infrastructure includes a spacious 450-seat main hall equipped with bleacher seating, as well as extensive sporting amenities such as a four-court sports hall, an all-weather floodlit pitch, grass football and rugby fields, a running track, a cricket wicket, and a versatile multi-use games area.
The school's design embodies passive design principles, ensuring natural ventilation and optimising energy efficiency throughout its operations. This approach prioritises student and staff well-being by incorporating high levels of insulation to stabilise temperature fluctuations, and abundant glazing to harness the benefits of natural light, thereby enhancing focus, productivity, and overall wellness.
Gloucestershire's first Net Zero Carbon school
Strategically located on the fringes of an Area of Outstanding Natural Beauty, the school's architectural plan incorporates natural materials, thoughtful massing, and sympathetic landscaping, allowing it to seamlessly blend with its pristine surroundings, while demonstrating utmost respect and harmony with the environment.
We are proud to have been part of the team who achieved the completion of this new school for Cheltenham and delighted to see it win the prestigious Michelmores Property award for Best Education Project.
About Evans Jones
Evans Jones is a property consultancy, with offices in Cheltenham, Reading and London which has been in practice for over 50 years. Evans Jones provides professional consultancy services to the commercial sector in the areas of Town Planning, Construction, Development, Building Consultancy, Disabled Access Consultancy (Equality Act) and legal obligations associated with construction and development.
Clients include: Ashford District Council, HSBC, Travelodge, NFU Mutual, British Airways, UCAS, University of Gloucestershire, Liverpool City Council, NHS Foundation Trust, Clarks Shoes, Bovis Homes, Midcounties Co-Operative, British Waterways, Severn Trent Water, Crest Nicholson, Cheltenham College and Cheltenham Ladies College.