Planning committee gives unanimous approval for new Cheltenham secondary school.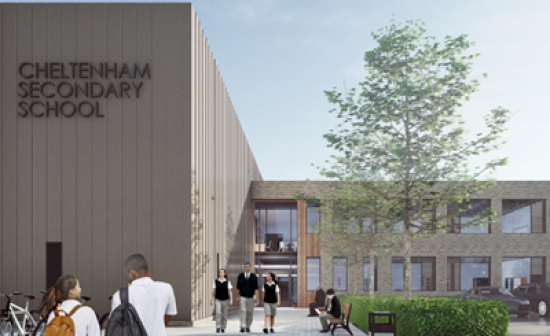 Proposals submitted by Evans Jones on behalf of Gloucestershire County Council for a new Cheltenham secondary school, located at Farm Lane/Kidnappers Lane, Leckhampton, have today been given unanimous approval by the planning committee of Gloucestershire County Council.
The committee was held virtually and took place on Thursday 14th May at 10am with planning committee members from Gloucestershire County Council present. The proposal was presented and representations heard from objectors and supporters of the scheme.
The committee voted unanimously in favour of the proposal and thus granted approval for the new school. The committee meeting can be viewed online here.
Final approval is now required by the Secretary of State, which will then allow the plans to progress to the next stage.
David Jones, Head of Planning at Evans Jones commented on today's decision:
"We are delighted that the planning committee have today resolved to approve the proposal for a new secondary school in Cheltenham . It represents a huge step forward in the project and we are excited to progress to the next stage in delivering a fantastic new school for Cheltenham".
Cllr Patrick Molyneux, cabinet member responsible for education, has said previously of the scheme:
"This school will be a massive investment into the future of children in Cheltenham, and the surrounding area, and a key part of our £100m investment into schools across the county. We are committed to putting in place real investment to support Gloucestershire's students and teachers into the future."
The brand new secondary school building, with a new all-weather pitch, sports playing fields and a multi-use games area will open its doors to new Year 7 pupils in 2022 – and will provide much-needed school places for 900 pupils in Cheltenham aged 11 to 16 years old.
It is planned that the first intake of Year 7 pupils in September 2021 will temporarily be accommodated at Balcarras Secondary School and transfer across from the temporary site to the new site when complete.
Gloucestershire County Council have undertaken detailed forecasting on the need for school places, which has shown a continuing need to increase the number of places in Cheltenham primary and secondary schools.
On Wednesday 13 December 2017, Cabinet gave approval to establish a new secondary school in Cheltenham and funding was approved by Council in February 2018. Following a selection process in June 2018, the Regional Schools Commissioner announced the sponsor for the new school as Balcarras School, Cheltenham. Then followed a period of public consultation, followed by the submission of a formal planning application in August 2019.
Members of the design team include Evans Jones (Planning Consultants); AHR (Architects); Cotswold Transport Planning (Transport), Hydrock (Engineering), Pegasus (Landscape Architects) and the appointed delivery contractor Kier Construction.
If you have any queries or would like more information please contact David Jones of Evans Jones via email: david.jones@evansjones.co.uk