Balcarras Academy Trust will house the school's first pupil intake in new modular buildings from September 2021.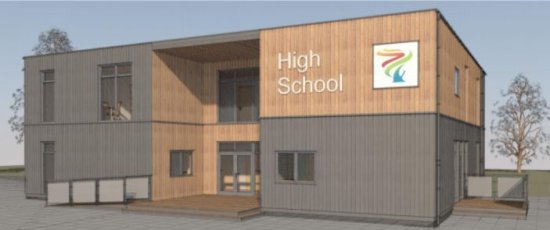 Following approval in June 2020 for a brand new 900 pupil secondary school in Cheltenham, Evans Jones have submitted a proposal to Cheltenham Borough Council on behalf of Balcarras Academy Trust for new modular buildings, to house the school's first intake of pupils from September 2021.
The new school – to be named 'The High School Leckhampton' - is due for completion in 2022, with this proposal to house the first intake of pupils from September 2021 in a new modular building within the grounds of Balcarras School, East End Rd, Charlton Kings, Cheltenham.
Balcarras Academy Trust were awarded the role of sponsor for the new school in June 2018 and will welcome the pupils who will ultimately attend the new school building to be temporarily accommodated at Balcarras School and transfer across to the new school site at Kidnappers Lane, Cheltenham upon completion.
The proposed new building comprises a beautifully designed two storey building with very low environmental impact (Energy Performance Certificate A rated). The modular building will house four classrooms, office space and ancillary services to ensure the children have outstanding accommodation and an excellent experience of their first year of secondary education. This specially designed building will be sited well within the boundary of Balcarras School, with minimal impact on views from any neighbouring houses.
Balcarras Academy Trust will be able to benefit from the accommodation in the future, not only providing excellent accommodation for the incredibly successful Business Studies Department at both GCSE and A Level, but also allowing the very crowded conditions around the sixth form study rooms to be alleviated.
Works are scheduled to commence on site (subject to approval) in January 2021, with the completed building to be handed over to the school in the summer of 2021.
Evans Jones Property and Planning Consultancy are appointed to manage the project, from the initial planning submission to managing and delivering the project for completion in 2021.
If you have any queries or would like more information please contact David Jones, MD/Head of Planning via email: david.jones@evansjones.co.uk