The Business in Gloucestershire (BIG) Golf Day has now raised over £23,000 for local charities.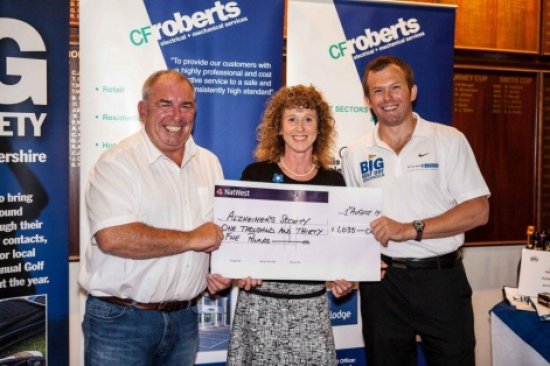 The Business in Gloucestershire (BIG) Golf Day has now raised over £23,000 for local charities.
The latest golf day, sponsored by CF Roberts was attended by 38 local business people. The day raised over £1035 for the Alzheimers Society who provide support and advice for people with dementia throughout Gloucestershire including memory cafes, singing for the brain and a number of other support groups.

Highlights from the tournament included a champagne moment for Nick Bunnage of CF Roberts with a hole in one.
The winning team were all from local businesses - Evans Jones Ltd, Hughes Paddison Solicitors, Aecom and Willans Solicitors.

Founder of B.I.G, Ian Eggleton, Director at Cheltenham Surveyors and Planning Consultants Evans Jones, said:
"The make-up of the winning team really shows what B.I.G is all about. We even managed to get lawyers to work together! On a more serious note I was really grateful to CF Roberts for organising a great day bringing local business people together for a worthy cause. Nick Bunnage's hole in one on the 17th really capped off a great day, although I don′t recall receiving my drink!"

Ian Henderson of CF Roberts, said:
"It was a privilege to be asked by the BIG golf society for CF Roberts to sponsor the golf day at Lilley Brook. To raise in excess of £1000 for the local Alzheimers charity was a fantastic achievement. A big thanks must go to all involved for making the day such a huge success.

B.I.G is a golf society for local businesses to regularly meet up and network whilst raising money for Gloucestershire charities. Around 150 business people have taken part in the regular golf day which has raised funds for charities including the Pied Piper Appeal, LINC, Gloucestershire Young Carers including a 10k donation to Gloucestershire Royal Hospital to fund new baby monitors.

If you would like to sign up and join BIG contact: joanne.bruce@evansjones.co.uk or call 01242 531432 to receive information about future events.