An application for judicial review of the planning decision for a new Cheltenham secondary school has been refused by the High Court.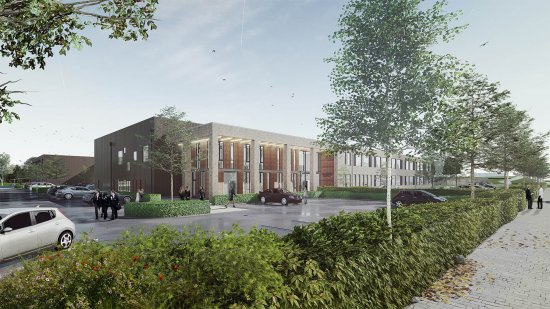 Following the submission of an application for judicial review of Gloucestershire County Council's decision to grant full planning permission a new 900 pupil school in Leckhampton, Cheltenham, His Honour Judge Jarman QC of the High Court refused permission for the judicial review of Gloucestershire County Council's decision.
The refusal of permission to review the council's decision means that the school can now proceed for delivery in September 2022 for year groups 7 and 8.
The application for judicial review was brought by local resident Mrs Margaret White, with the grounds of challenge seeking relocation of the proposed all-weather sports pitch and concern that the planning officer in her recommendation to planning committee had not referenced the site as a valued landscape or sufficiently considered the impact on a scheduled monument to the south-east of the site.
The judgement concluded that the need for the school was not in issue, the site was allocated for such a purpose in the draft local plan and on a fair reading of the report as a whole, each matter referred to in the challenge grounds was adequately dealt with and thus the grounds of challenge are not arguable.
It is acknowledged that an aggrieved party may seek permission to challenge any planning decision, that is a legal right which Mrs White exercised in this case. It is hoped that on reading the decision and reasoning of the High Court decision that Mrs White will now be satisfied that the application was properly considered by the decision maker.
Members of the team included Evans Jones (Planning Consultants); AHR (Architects); Cotswold Transport Planning (Transport), Hydrock (Engineering), Pegasus (Landscape Architects) and the appointed delivery contractor Kier Construction.
Proposals submitted by Evans Jones were given unanimous approval by the planning committee of Gloucestershire County Council on Thursday 14th May 2020.
If you have any queries or would like more information please contact David Jones, MD/Head of Planning via Email: david.jones@evansjones.co.uk