Hi I'm Oscar! I am a 15-year-old student at Thomas Keble secondary school, and I am soon to complete my GCSE'S in geography, computer science, art and food next summer.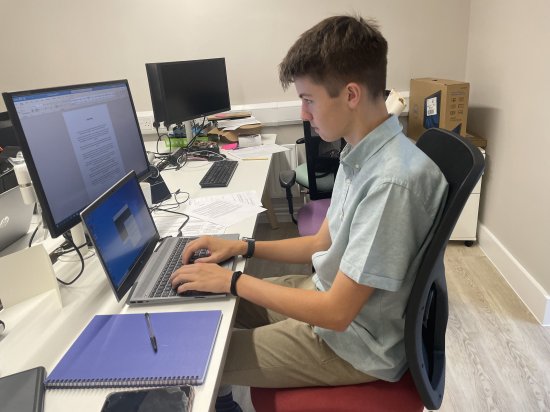 After GCSE'S I am interested in studying an a-level in marketing or business studies. After this joyful week of work experience at Evans Jones, I would be keen to consider a career in marketing as this has really given me a true insight into the role of this job which I found both interesting and enjoyable.
Before my first day at Evans Jones, I was uncertain of what to expect and quite nervous, but as soon as I entered the office, I felt very welcomed by the friendly staff working there who were willing to help me.
Upon arrival I was introduced to the business and what their day consist of. I then joined in on their everyday meeting where they discuss what is on the agenda for the day. Throughout the week of work experience I have learnt about the business and how they work and, they were very helpful by giving me a time plan of what I would be doing on each day.
I've been looking at the difference in what makes a good website and how a website draws in a viewer's attention. I've also helped by looking at many other housing developers in Berkshire. This has given me a good insight into the marketing roles here.
I enjoyed every task I was given; this was because they clearly explained to me, and I was encouraged to ask questions at any point. Which made this week so enjoyable.
All in all, this was a very interesting week with plenty of opportunities to learn something new and get involved. As I have said before, this week has encouraged me to look deeper into pursuing a career in marketing.
From my experience at Evans Jones, it is a very professional business which is very flexible and a friendly working environment. I have thoroughly enjoyed this work experience placement and I would recommend it to anyone who is interested in marketing. The team is very friendly and welcoming and I'm sure you would enjoy it here.