Jo Bruce, Marketing Manager looks at the power of LinkedIn as a tool to build your business profile and gives her top tips for success.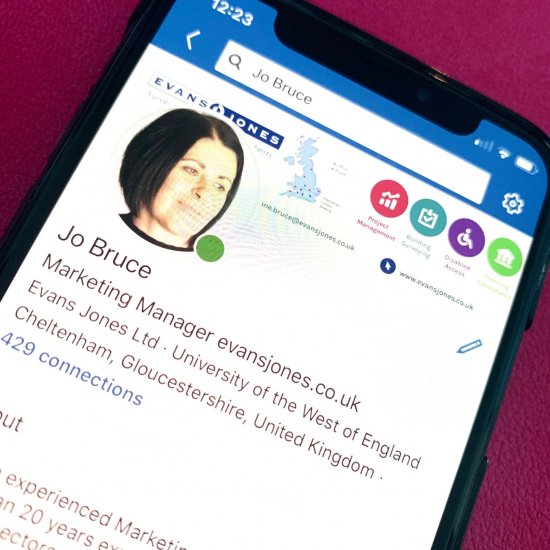 For me, LinkedIn has been one of the star performers of recent times and in particular, in the light of the COVID-19 pandemic. An entire workforce working from home or on furlough have turned to LinkedIn as a source of information, support and connection with their networks.
The platform grew by 15 million members to a total of 690 million in the first quarter of 2020 alone, and 40% of those members use the site daily. Conversations between connections rose by 55%, with a 60% increase in users posting on the news feed, and 30% more users were checking their feed more regularly to stay up to date with Coronavirus related news.
It often surprises me the number of companies in the B2B space who are not making full use of LinkedIn as their primary social media tool. The platform has often been neglected in favour of the more 'traditional' social media networks – Twitter, Facebook, Instagram etc. - and is sometimes written off as a hunting ground for recruiters, job-seekers and salespeople and its value for marketing and building profile and awareness of your own business are often overlooked.
If I wasn't 100% convinced of the value of LinkedIn before COVID-19, I certainly am now. From my own perspective in my role as Marketing Manager at Evans Jones, LinkedIn has overtaken Twitter as our primary social media platform by a country mile. In the period Aug 2019-20, our Twitter followers grew by a healthy 11.5%, whilst LinkedIn has grown by a massive 145%.
My top tips:
Sound like a no-brainer? I agree, LinkedIn is a veritable goldmine of senior influencers and decision-makers for any business looking to raise their profile in the B2B space.
However, there are some key tips to follow, which in my view, will increase your likelihood of success.
1. Content is King!
I can't emphasise this enough - content, content and more content! Your posts should provide your followers with information, support, knowledge, advice. They should never be a sales pitch. Your followers should look to you as an expert in your field – providing information that is interesting and useful for your target audience. If you can help people solve their business problems and do their jobs or run their businesses better, that is where the magic happens. You will build awareness and trust and subtly guide your audience towards your brand. 'How tos', list posts, top tips, short articles, and industry news/updates are all good examples of quality content.
2. Build Relationships
LinkedIn is all about relationships and connections – the more you can build up a rapport with your followers and connections, the more effective your posts will be. Why would you expect your followers to interact with your posts when you don't interact with theirs? It is a two-way street – make sure you like, comment and share on other people's posts and content – it's all additional awareness and exposure of you/your brand and you will start to build those invaluable relationships and help you build a loyal and growing follower base.
3. Consistency
Almost as important as Content is Consistency. It's all about the long game and building up trust in your audience. Consistency is crucial to that - it's no good posting sporadically and expecting to build up a loyal follower base and to grow exponentially – it takes time and commitment. LinkedIn recommends posting 20 times a month, which equates to about once per business day.
Don't panic – this doesn't necessarily all have to be your own curated content – sharing industry news or other people's posts can be equally as useful to your audience as posting your own articles and blogs.
4. Know your features
Hashtags - often more closely associated with more consumer-led social media platforms such as Facebook and Instagram, LinkedIn actually has a very effective hashtag engine. Using relevant industry hashtags can really help to extend your reach and broaden and build your follower base.
Groups – join relevant groups or start your own. LinkedIn groups can be invaluable ways to connect with relevant companies and contacts. Be sure to interact and comment, like, share on others content and your own.
Events – a recent LinkedIn addition is the ability to add and share an Event within the platform and to invite your connections to attend. Make the most of this and remember to promote your events on LinkedIn as well as through other media.
Connections – your own personal connections and those of people within your business are valuable pools of contacts – ensure that you invite your connections to 'follow your company page' and remember to share your company page updates to your own personal timeline to ensure maximum exposure.
5. Measure your success
As with all marketing activity, it is essential to monitor your success on LinkedIn. Analytics reporting on the platform have improved significantly over recent years and it now provides detailed information on followers, impressions, clicks to your website etc., as well as insight on individual posts, in terms of engagement - likes, comments, shares etc.
The important thing here is not just to regularly monitor and report on your LinkedIn success, but also to use this to inform your future posts/updates.
Jo Bruce is Marketing Manager at Evans Jones Ltd, Property and Planning Consultancy, based in Cheltenham, with offices in London and Reading.