Almost three years since it was first announced, the Environment Bill has now gained Royal Assent.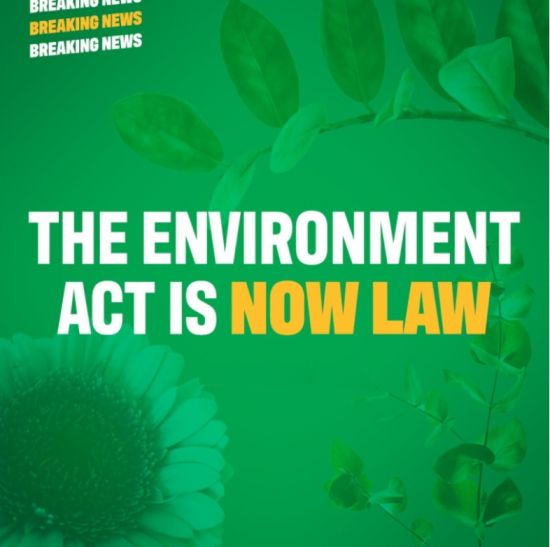 The Bill brings into force a series of measures and environment standards, which follow the end of the Brexit transition period, although measures go beyond that simply required in a post Brexit world.
Whilst the Bill contains a number of measures which will impact upon planning applications, the major game changer is a statutory requirement for developments to deliver at least 10% Biodiversity Net Gain (BNG) for new development (compared against the pre-development biodiversity value of the site). BNG secured via planning permission for new development will need to be managed for at least 30 years.
The assessment of what constitutes BNG will be determined via assessment using the DEFRA BNG metric (Currently version 3). The Bill does however require that the new biodiversity metric used by planners and developers to calculate net gain requirement would be subject to parliamentary approval. The current metric has not been so approved although lacking any other alternative it is likely that local authorities will defer to the metric 3 as the standard measuring tool for BNG assessments.
This is part of a wider goal of the Bill to halt species decline by 2030, with Tony Juniper, the chair of Natural England, stating that the BNG requirement will "give us more of the tools and momentum we need to really put nature on the road to recovery during this decade."
The Bill also requires the Government to set a series of long-term environmental targets in the areas of air quality, water, resource efficiency and waste reduction, with these needing to be proposed before the end of 2022.
This can place an extra burden on developers in them having to make sure that new development provides the biodiversity enhancements, with the extra costs of ensuring that this is the case. However, there are also clear benefits that can be seen as a result of this change, focused on improving the natural habitats of development sites and, by extension, enhancing the natural environment of an area.
Mark Campbell, Head of Planning at Evans Jones commented:
"The strengthening of environmental controls, protecting valuable habitats improving air/ water quality and boosting biodiversity is something that all developers should aspire to achieve.
It is nonetheless anticipated that many landowners and developers currently have little idea what achieving 10% BNG actually looks like. Furthermore, where sites have been purchased prior to the Bill receiving Royal Assent many developers may find that sites cannot be developed at the density originally envisaged or financial contributions will be required to provide off site biodiversity offsets.
Early engagement with your planning consultant and relevant ecology specialists is recommended at the initial site appraisal stage to ensure that BNG is properly and appropriately assessed."
Mark Campbell is Head of Planning at Evans Jones Property and Planning Consultancy. If you would like to find out more about Planning Consultancy services or discuss your project, contact Mark on 03450 097 139 or email mark.campbell@evansjones.co.uk.