Part M of the Building Regulations now states that provision of Changing Places is a requirement for larger buildings and sites.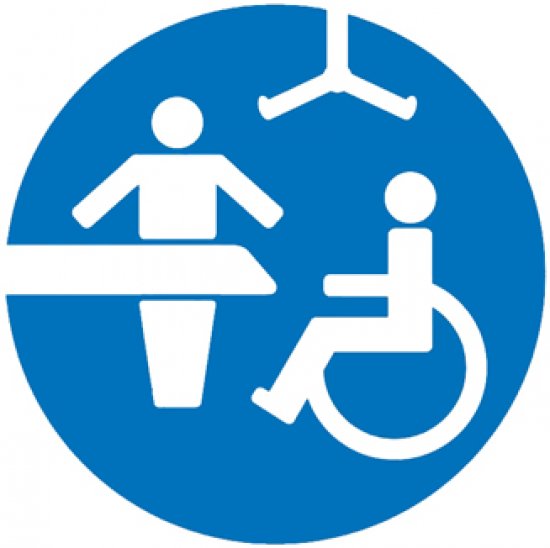 I was pleased to see that Part M guidance on the provision of changing place toilets has now come into force (from 1st January 2021). This helps to clarify where changing place toilets should be provided and will certainly help to deliver more changing places in the longer term.
So what is a Changing Place Toilet?
In simple terms a changing place cubicle is a large accessible toilet cubicle with provision for hoist access and changing facilities – so much more space than an accessible cubicle, more kit and provision for changing. The extra space allows up to two carers to assist users to transfer to and from the toilet and provides space for a changing bench.
The Changing Places Consortium website includes loads of technical information and photographs of examples but for ease of reference I repeat below the drawing they use.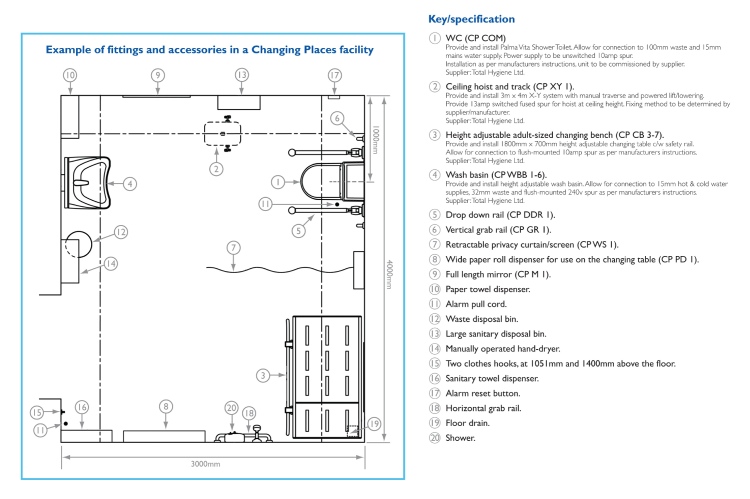 So why do we need changing place toilets, isn't an accessible toilet enough?
It is estimated that around 250,000 users cannot use a standard accessible cubicle (or certainly not safely) and need the extra space and facilities a changing place cubicle provides.
This becomes particularly relevant for larger sites where a disabled person may want to stay for a considerable time and could make the difference between that site being accessible to an individual or not.
I run one of these sites how does this affect me?
The impact of this change will first be felt by developers of new large public access buildings for assembly, recreation or entertainment or sites with a collection of smaller buildings adding up to a large capacity such as zoos or theme parks for example. New hospitals and Primary care buildings may also be affected. (see Part M Amendment for more details).
Guidance for schools providing community facilities is due to be published by the Department for Education later in 2021.
I'm guessing not a lot of these sites are being built at the moment so this is likely to have a longer term impact.
As the building regulations don't apply retrospectively there is no requirement under the building regulations for existing sites to create changing places.
However as the Approved Document to Part M is typically used as a criteria document for Access Audits of existing sites I think there is a fair argument that the provision of changing places could now be considered a reasonable adjustment for larger buildings and sites in assembly, recreation or entertainment use.
I have certainly been highlighting the benefit of changing place provision in my audits of larger sites of this type for a while now but more as a 'best practice' item rather a piece of work I consider to be a reasonable adjustment now. I take every site on its merits but I do think these larger sites will now likely attract a recommendation to provide a changing place.
I have one of these sites so what should I do?
As I say each site should be viewed on its own merits so I would start by getting an Access Audit (I would say that wouldn't I) – but seriously if you have a site of this size and use you really should have an access audit to help you to understand what reasonable adjustments you might need to put in place to meet your obligations under the Equality Act generally – a changing place may be one of these.
More generally the refurbishment and updating of existing toilet blocks can often give an opportunity to create a changing place relatively economically as foul drainage and water supplies will already be in place.
I would give some thought to the location of the facility in larger sites such as zoos or theme parks for example, as ideally the changing place would be set relatively centrally with easy access from principal facilities such as canteens and dining facilities rather than towards the outer extents of the site.
If you do install one make sure your customers know you have one – this will attract more people – who all spend money! Once on site make it very clear where the changing place is on maps and guides and make sure its well signed on site.
Ian Eggleton is Director of Disabled Access Consultancy. If you have a large public building or site and would like some specific advice or think you need an access audit please get in touch.