How can we fill the gap in our town centres left by Debenhams and other retail casualties caused by the pandemic?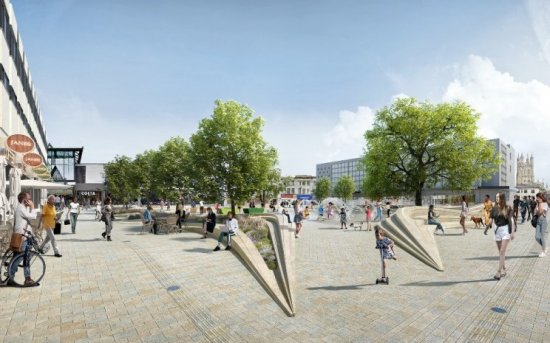 In an article originally published in Punchline Magazine, David Jones discusses how we fill the gap in our town centres left by Debenhams and other retail casualties. He looks in particular at our local centres of Gloucester and Cheltenham.
Gloucester is on the front foot in the race to adapt to changes on the high street, when we emerge from a year of coronavirus restrictions into the post-pandemic world.
That is courtesy of plans for the regeneration of King's Square and The Forum digital hub according to David Jones, managing director of Cheltenham-based planning consultants Evans Jones.
He said: "Gloucester has been brave in grasping what it has in terms of King's Square, a massive area for a city centre compared with others of a similar size. "It's been unloved for many years and there's been various attempts to try to improve it, but that's really been tickling around the edge.
"Now with The Forum, it is concentrating on an excellent public realm, creating space where people can come, they can enjoy themselves, they can watch events."
The pre-pandemic planning of King's Quarter, with work starting in King's Square after several years of false starts, has left Gloucester in a good position to move forward after the coronavirus.
"They are perhaps in a better position than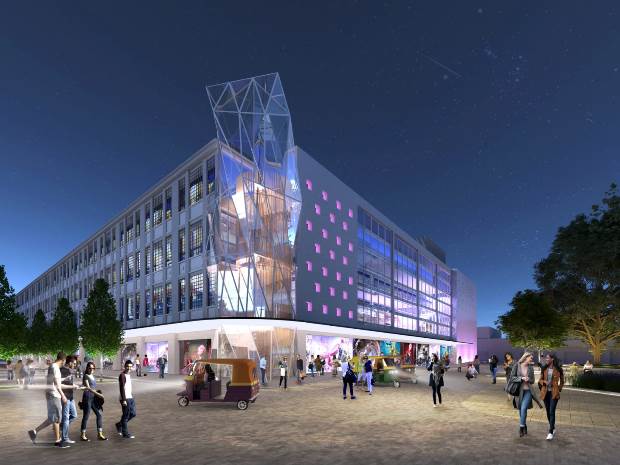 many cities I am looking at, where they haven't got to that level of preparation and are now trying to catch up," he said.
"I've been talking about the high street, its regeneration, reinvigoration and reinvention from prepandemic and throughout, because the writing has been on the wall for a number of years, with declining town centres and what do we do about it."
He continued: "The pandemic has given us tunnel vision. It has brought together what could have happened over four years into 12 months. "Where you get brave authorities like Gloucester City Council who, in partnership, look to develop an area like King's Square, we can see what result that has."
One blow to the regeneration has been the collapse of Debenhams which occupies one side of King's Square, although he believes the building's position makes it an attractive proposition as rumours of potential buyers start to circulate.
"Debenhams and its like are replicated through most town and city centres," he said. "I think local authorities must have been panicking when they saw the demise of Debenhams as a physical footprint.
"The loss of Debenhams if it just stood there as a vacant lot would be disastrous for the King's Square project, but the building is an attraction to investors."
He continued: "I don't know what it's going to be used for, but looking at others of that nature that I am advising on, we are looking at a whole range of different uses.
"Trying to retain active frontage at ground floor level is imperative and then above that, virtually anything goes.
"That can be retirement, health, education, fitness and leisure, residential and I think all of that needs to come into the mix."
While facing the same issues, he feels Cheltenham is a little behind its city neighbour on the road to a changing town centre.
"There's a similar scenario bubbling with Cavendish House," he said. "Will it survive? Won't it survive? If it survives, what will it be?
"And if you've walked along the Promenade in front of Cavendish House, it doesn't feel very alive.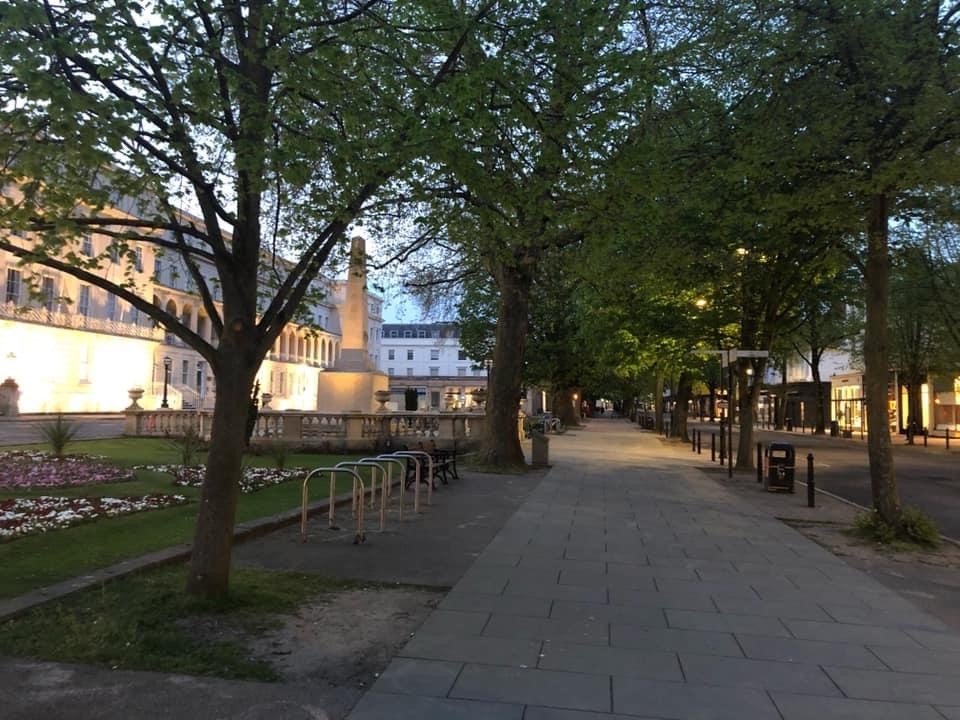 It's attractive, but it does not feel a very active area and somewhere you want to linger."
He continued: "The challenge for Cheltenham is to replicate, on a slightly different scale, what Gloucester is doing with King's Square, on the Promenade and other areas in the town to create those honeypots where people want to come and be entertained.
"That involves a very different mindset from a simple pedestrianisation, to creating a public realm which is very attractive and really does encourage people to come to town for the joy of it, rather than just to buy a TV or a skirt or trousers."
That need to attract visitors into town and city centres is a recurring theme as they battle to adapt to a changing world. "In Gloucester we've got the Quays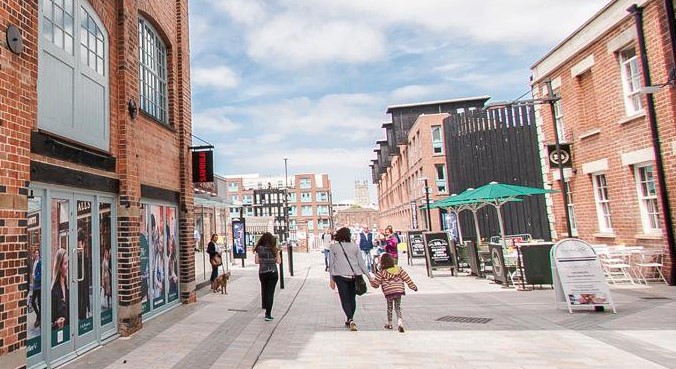 which is a privately owned retail offering," he said. "They have the benefit of a great backcloth, like a film set, where they can bring all sorts of functions into that area.
"That's what we need to get in many town and city centres. That's what King's Square will give us, that function area where people are hopefully attracted to.
"My mantra is people come and they will spend, but it's not the retail element necessarily that's attracting them."
He continued: "Many will criticise the government for all sorts of things, but let's celebrate when they do get things right and they are trying. "With town centres, the public realm and the build back better and build beautiful mantra, trying to look at treelined streets, how people react with town centres and trying to pull people into town centres for reasons other than retail, can only be positive.
"There is an advantage from the pandemic in bringing all the stakeholders together and really concentrating their minds. If we'd had what I refer to as a drip, drip, drip of decline in the town centre, you don't really get that momentum to get all the stakeholders together."
He is clear it is not just retailers and the authorities that have a role in keeping the high street alive. "Everybody has their part to play in going to use the high street," he said. Landlords need to reappraise what they've got, need to reinvest what they've got and they need to be imaginative.
"The government needs to look at business rates, which are out of kilter with revenue on the high street, and taxation on how physical retailers are taxed in relation with online.
"Local authorities need to be more imaginative in their planning functions. They allow sufficient freedom and flexibility, but keep the core of what we've got and then it's a case of managing what we've got.
The pandemic has accelerated the growth of online sales and the threat they pose to traditional retailers, but Mr Jones thinks there is room for the two to co-exist.
"The high street has to embrace the digital online world," he said. "It has to be a seamless offering of online and physical. Retailers will have learned and been forced to learn what they need to do to make things work.
"Will those retailers survive? We don't know yet. There are probably zombie retailers on the high street who will not reopen once the high streets are reopened, so we are not out of the woods by any means yet."
He continued: "There will be a changed retail environment. It will be a much smaller core. My hopes are it brings back a little more character, more independents will come into that market. Where there is a readjustment in rent, which I think there will have to be as rent is driven by demand ultimately, if it becomes more cost-effective I think we will see those coming back into the market.
"I think we've had a long period of homogenised high street, where you could be anywhere in the country. If we can bring back more of those small, independent shops into the core areas, I think that would be great."
"Whether it is achievable - watch this space"
For more information visit www.evansjones.co.uk