Local businesses try their luck on the tables, as Evans Jones host their annual client event at No.38 The Park, Cheltenham.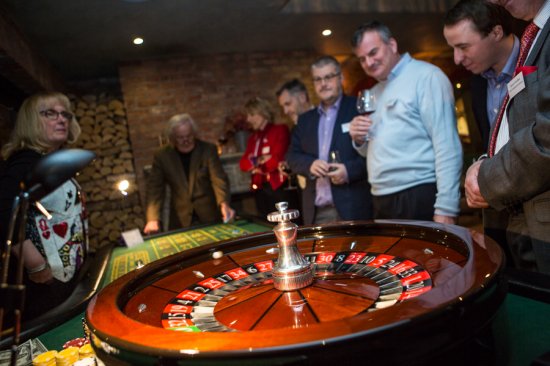 Local businesses from Cheltenham and Gloucester attended the ultimate evening of risk-taking, at the 'Millionaire by Midnight' event, hosted by Evans Jones Surveyors and Planning Consultants, at No.38 The Park, Cheltenham on Thursday 2nd February 2017.
Guests had the chance to try their hand on the Roulette and Blackjack tables, as well as placing a bet on the infamous Racing Pigs! There were also hints and tips on the art of hustling by a professional 'grifter', to kick-off the evening.
A range of local businesses and clients attended, including Cheltenham College, Harrison Clark Rickerbys, Hazlewoods, Crowe Clark Whitehill, Robert Hitchins, Boo Homes, Knights LLP, Willans Solicitors and Lloyds TSB.
Guests enjoyed a selection of canapes, served with wine and beer and all set in the beautiful regency backdrop of No. 38 The Park, Cheltenham, part of the Lucky Onion Group.
Ian Eggleton, Evans Jones' Director of Building and Access Consultancy, said: "We always try to do something a bit different in the midst of winter when the local business scene tends to be quiet.
"It was great that the event was so well supported and it was a great opportunity to catch up with many of our supporters from local businesses."