Cheltenham Borough Council vote in majority support for regeneration of prominent Bath Road site.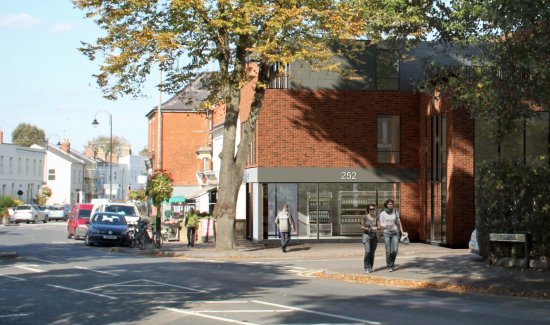 On the 20th December 2018, Cheltenham Borough Council's Planning Committee gave the go ahead for the redevelopment of the former Robert Young Market/Pop-Up shop in Cheltenham's popular Bath Road area.
The Gloucestershire Design Review Panel, The Cheltenham Architects Panel, and all other technical consultees supported the proposals.
With a majority vote in favour by the Planning Committee, the Council has given the go ahead for a mixed use development comprising shop/restaurant/café at ground floor level with 8 apartments upon the upper floors.
The ¼ acre site is located at the intersection of Bath Road/Leckhampton Road and Langdon Road and is within the Bath Road Character Area of the Central Conservation Area.
The application was submitted by Evans Jones on behalf of the landowners. This successful application follows a previous refusal of consent in May 2018 for a different scheme promoted by other consultants. The previous scheme was likened by committee members to a "1960s cinema" and a "carbuncle which will stick out like a sore thumb".
David Jones, Head of Planning at Evans Jones commented:
"I am delighted with this decision. Whilst many applicants would have simply appealed the May refusal, I considered that this prominent site deserved a higher quality design; hence the recommendation was made to the landowner to start afresh with the appointment of a new design team. The end result is a high quality building which I look forward to seeing started."
For more information on our Planning Consultancy services, you can contact us here.