The Vacant Shops Academy report confirms that Cheltenham is outperforming the national trend for vacancy rates in the High Street.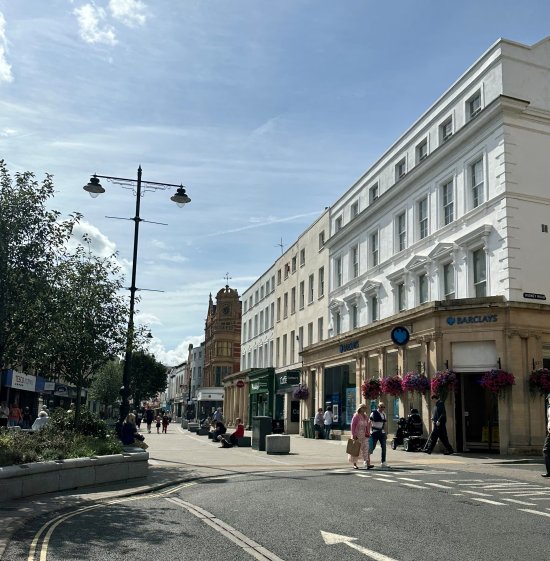 A testament to the collective efforts of a proactive local authority, local businesses and stakeholders. Coinciding with this positive trend, the government has proposed reforms to the General Permitted Development Order (GPDO) aimed at re-populating town centres across the country.
Proposed Permitted Development Changes:
The government has recently published a consultation document on proposed reforms to the GPDO. The potential changes are aimed at further enhancing and diversifying town centres, removing red tape with the aim of making them more vibrant and attractive places to live, work, and visit. The proposed changes include:
Increased Floor Area Limit: Increase floor area limit for changing commercial and service uses to residential, from 1500m2 to 3000m2.
Expanded Rights for Mixed Uses: The proposed changes allow for mixed-use developments, permitting residential units to be formed above other town centre uses. This flexible approach maximizes space utilisation and promotes a more dynamic urban environment.
Removal of Vacancy Period Requirement: Eliminating the requirement for a 3-month continuous vacancy period streamlines the process for property owners and developers.
Extending Permitted Development to Conservation Areas: The proposal extends permitted development rights to include conservation areas, Areas of Outstanding Natural Beauty (AONBs), National Parks, The Broads, and World Heritage Sites.
Broader Range of Uses for Conversion: The proposed changes expand permitted development change of use to include betting offices, payday loan shops, hot food takeaways, amusement arcades, and casinos, allowing for a more diverse and vibrant property landscape.
Conversion of Hotels to Dwellings: Converting hotels to dwellings provides a creative approach to repurposing underutilised spaces, meeting the community's evolving needs.
Increased Number of Flats Above Shops: The proposal aims to increase the number of flats that can be created above shops from 2 to 4 units, utilising available space more efficiently.
Extended Time for Temporary Markets: Extending the time period for temporary markets (increase from 14 – 28 days) further supports local businesses.
Challenges and Considerations:
While the majority of the proposed changes are positive, it remains the case that property conversions are expensive, often more so than building on greenfield sites. Additionally, the current VAT system is skewed, favouring new build housing with zero-rated VAT, whilst imposing a 5% VAT liability on conversions from commercial to residential uses. the increased burden of VAT acts as a disincentive to those wishing to create sustainable homes within existing buildings.
Conclusion:
The proposed permitted development changes, if enacted, could be a catalyst for further transformation, fostering sustainable development and creating vibrant and thriving town and city centres.
Personally, I would call on the government to consider change to the VAT regime as this disproportionately impacts property conversions. By embracing innovation and considering the long-term benefits of property conversions, Cheltenham and other towns can pave the way for a brighter and more prosperous future.